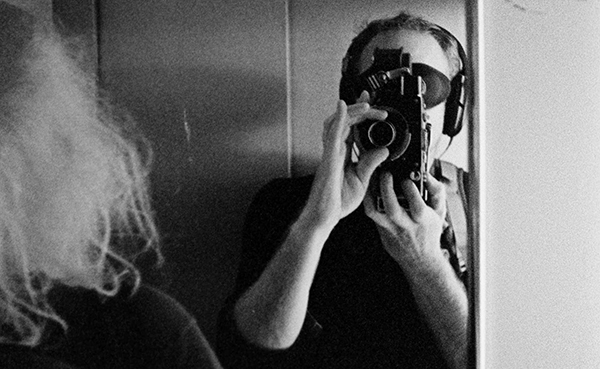 Huw Wahl | b.1985 London | filmmaker, photographer, artist
"Huw Wahl uses the form-giving, material qualities of moving image to unearth the importance of creative action and its transformative potential. Whether building a giant inflatable with volunteers, delving into the life of an anarchist philosopher, or developing an intimately materialist and political account of one person's poetry, it is the ability of film space to open experiences and ideas for communal change that drives him forward."
The Barn Arts
Wahl's work has been screened internationally at film festivals such as CPH:DOX, Festival du nouveau cinéma and Open City Docs, in art galleries like Centre Pompidou Metz, the Bluecoat and the Whitworth, as well as in universities, social centres and at music festivals.
He has won several international awards with his films, and they've featured in magazines like Sight and Sound and The Wire, and received funding from organisations such as Arts Council England, The Henry Moore Foundation, and the Royal Photographic Society.
Things he has written have been published in magazines and academic journals and books. He has also on occasion curated film programmes, been part of international film festival juries, and taught short film & photography courses in university and community settings in the UK and abroad.
Wahl is currently working on an arts council and crowdfunded film that explores the art of engineless sailing, and is a Research Associate at the University of Manchester on the AHRC funded project Creative Adaptive Solutions for Treescapes Of Rivers (CASTOR).

For general enquiries and commissions, get in touch at huwwahl[at]gmail[dot]com
CV
DIRECTED FILMS

20xxWind, Tide & Oar (in production)
A film concerning the absorbed attention & artistry of engineless sailing, speaking to urgent contemporary issues of ecology, mental health, disappearing skills and heritage
20xxExpiry Film (in production)
Working title / work in progress
2022I AM A FILM (10m)
The poet Stephen Watts reads his Coda to The Liberated Film Club book
2020The Republics (1h 23m)
A b&w 16mm film, drawn from the book 'Republic Of Dogs / Republic Of Birds' by Stephen Watts exploring landscape, history, memory and the power of words to celebrate and resist
2017My Recoverist Family (40m)
A film about the non-linearity of recovery from substance use within the LGBT+ community
Co-directed with Amanda Ravetz
2016Everything Lives: looking at the artist as father (24m)
A short 16mm film about my father
2016Action Space (1h 26m)
Award-winning experimental film and inflatable project about the radical 60s art group Action Space
2014To Hell with Culture (55m)
A film about the poet, writer, art critic and anarchist, Sir Herbert Read
2012Negotiating Representation: In Israel and Palestine (15m)
A photography and audio project about photographers working in Israel and Palestine
---
COMMISSIONS
20xxCASTOR (in development)
A research film for Creative Adaptive Solutions for Treescapes Of Rivers
2022ESK - nature (3m)
Music 'video' shot on Super 8 for hip-hop artist ESK
2021In Time (17m)
Editor/cinematographer on a film made with children, directed by Amanda Ravetz
2021Newham Heritage Month - Blue Mermaid voyage (4m)
A short film to document the voyage of the Thames sailing barge Blue Mermaid from Maldon to Newham
Carrying a token cargo of clay for brick making in East London
2020Speaking Back (4x20m)
A series of films about artists in the Musgrave Kinley Outsider Art Collection at the Whitworth Art Gallery
2020Betty Newman on Madge Gill (13m)
A Video edited for Newham Heritage Month, with Madge Gill's second cousin
Commissioned by Works by Madge Gill
2019Up in the Attic (4m)
Trailer for upcoming production by Cross The Sky theatre company
2019Michael Theis on Madge Gill (13m)
Exhibition video about a close friendship with the artist Madge Gill
Commissioned by the William Morris Gallery
2017Casebooks (9m)
A film based on an exhibition at Ambika P3, 16 March - 23 April 2017, London
Produced by Lauren Kassel
2016Wonderland: the Art of Becoming Human (17m)
DOP and editor on award winning short film about AHRC funded, co-produced arts project
exploring the utopian impulses of recovery, in collaboration with Cristina Nunez and Amanda Ravetz
2015MOSI exhibition videos (4m)
Videos for exhibition on food and eating - Commissioned by the Museum of Science and Industry
2015The Wave (4m)
Filming performance of Jonathan Dove's The Wave, as part of Manchester Science Festival
Commissioned by the Museum of Science and Industry
2015Castlefield Gallery Commission (10m)
Video documentation of artistic/academic conference at Federation House
2014The Event of the Thread (13m)
Film documentation of a project by artist Hannah Leighton-Boyce
2013Helpyourself Manchester (54m)
Co-director of a collectively made film about DIY music in Manchester in the early 2000s
2011Liberty House
A film made in collaboration with residents of Liberty House - accommodation for young people who find themselves homeless
2011Mouths and Meaning
Documentation of performance by Bronwyn Platten & Sarah Coggrave
---
CURATING/JURY
2023Munster Film Festival Jury, Germany
On jury for selection of Best First European Feature Film competition, with €5000 prize
2021The Becoming Earthly Film Season at The Barn Arts, Aberdeenshire
A 2 week online showcase of films, writing and talks on expanded notions of ecology in film
---
EDUCATION
2012MA in Photography, University of Central Lancashire
---
AWARDS and GRANTS
2023 Wind, Tide & Oar project awarded the Mary Falk Cup, for significant conribution to East Coast Workboats, by Colne Smack Preservation Society
2022 Wind, Tide & Oar project achieved £10k Crowdfunder success
2022 Wind, Tide & Oar received an Arts Council England Lottery Project Grant
2021 The Republics received an Honourable Mention from ONYKO film awards 2021
2020 The Republics received an Honourable Mention from jury at Litfilms, Munster's Literary Film festival
2020 The Republics shortlisted for the NEXT:WAVE competition category at CPH:DOX
2019 Silver in Best LGBTQ film at ReelHeART for My Recoverist Family
2018 Arts Council England grant to produce 'The Republics'
2017 PORe commission to co-direct My Recoverist Family with Amanda Ravetz
2016 AHRC research in film Utopia award for Wonderland: the Art of becoming Human
2016 FILAF Prix d'argent (silver), award for Action Space film
2015 Henry Moore Foundation, the Michael Davies Charitable settlement and the University of Sheffield Special Collections provide funding to produce Action Space
2013 Arts Council England grant to produce To Hell with Culture
2011 Royal Photographic Society Postgraduate Bursary Award
---
SELECTED SCREENINGS/EXHIBITIONS/WORKSHOPS/TALKS
2023I AM A FILM screened at Presse Books & FormaHQ, London, 18/11/23, as part of an evening of readings & screenings to mark the publication of Seven Rooms, from Tenement Press and Prototype Publishing
2023To Hell With Culture screening at Kairos, London, 20/10/23
2023 Included in Cornwall Museum's 'Spirit of Cornwall' show
Showing collaborative artwork (16mm film, painting, wall installation) made with Ken Turner, 10/10/23 - 20/01/2024
2022 I AM A FILM screening at Monologues & Poetry International Film Fest
Vallejo, California, USA, 17th/18th December
2022 I AM A FILM is a finalist in the Hombres Videopoetry Award 2022
Pereto, Abruzzo, Italy, 24th September
2022 Speaking Back: Serge Delaunay on exhibition in Brussels
As part of Haute Tension exhibition at Art et Marges Musée, from 23-03-2022 until 21-08-2022
2022 The Republics screened at The Horse Hospital
As part of The Raft project by Chiara Ambrosio
2022 I AM A FILM screened at Sharna Pax at The Horse Hospital
As part of Sharna Pax and The Raft project by Chiara Ambrosio
2022 I AM A FILM broadcast on Resonance FM as part of the radio piece:
Price Poetry, or the Left Ventricle in Times of Trouble, by Railroad Flat Radio
2022I AM A FILM featured on Tenement Press website, as part of the Liberated Film Club
2021The Republics at FlipSide Festival, Sweffling, UK (live screening 30th October)
2021In Time screening at Golden Bee International Children's Film festival, India
2021Action Space in Aerodream: Architecture, design et structures gonflables, 1950-2020.
An exhibition at Cité de l'architecture et du patrimoine, Paris. 06/10/21 - 14/02/2022
2021The Republics at Engauge Film Festival, Seattle, UK (Online and live screening 28-30 October)
2021The Republics at PEER Gallery, London, UK (Online and live screening)
2021The Republics at Slow Film Festival, UK
2021The Republics at CAST, Helston, UK
Exhibition running from 08/06/2021 - 10/07/2021 (extended until end of July)
2021The Republics at Whitechapel Gallery, London, UK
2021The Republics at Cadence: Video Poetry Festival 2021, NorthWest Film Forum, Seattle, USA
2021The Republics at Becoming Earthly Film Season, The Barn Arts, Scotland
2021 Action Space at Centre Pompidou Metz, as part of exhibition: Aerodream. Architecture, design and inflatable structures 1950-2020, running from 30.01.21 - 23.08.21
2021 The Republics at Athens International Video Poetry Festival, Athens, Greece
2021 The Republics at HELIOS Sun Poetry Film Festival, Ciudad de México, Mexico
2020 The Republics at The 2020 Film and Video Poetry Symposium, Los Angeles, USA
2020 The Republics at West Lake International Documentary Festival, Hangzhou, China
2020 The Republics at Leeds International Film Festival (LIFF), Leeds, UK
2020 The Republics at Festival du nouveau cinéma (FNC 2020), Montreal, Canada
2020 The Republics at Universidad de los Andes, Gestos de la Poesía, Bogota, Colombia
2020 The Republics at Taigh Chearsabhagh Museum and Arts Centre, North Uist, Scotland
2020 The Republics at Litfilms Festival, Munster, Germany
2020 The Republics world premiere at CPH:DOX 2020, Copenhagen, Denmark
2020 The Gallery of Everything, London - Valerie Potter film from the 'Speaking Back' series on loop in exhibition 'Autobiographic' running from 12.01.20 - 15.03.20 and including works from Carlo Zinelli and Valerie Potter
2019 REELHEART international Film Festival, Vancouver - screening of My Recoverist Family
2019 London Short Film Festival - Screening of Action Space
2018 FUTURE SHORTS, Worldwide - Everything Lives included in the summer program 2018
2018 REEL Recovery Film Festival, New York - screening of My Recoverist Family
2018 NGBK, Berlin - screening of Action Space as part of Floating Utopias exhibition
2018 Manchester University - screening of Action Space as part of symposium 'Cultural Democracy - yesterday, today and tomorrow'
2017 Whitworth Art Gallery, Manchester - screening of My Recoverist Family + panel with Huw Wahl, Amanda Ravetz, David Hoyle, Mark Prest & Will Self
2017 Krafta International Film Festival, Glasgow - screening of Action Space
2017 Architects of Air Inflatable, Barnsley - screening of Action Space
2017 Open City Documentary Festival, London - screening of Everything Lives
2017 Action Space part of Abacus group exhibition at Bluecoat, Liverpool + screening of Everything Lives film with Q&A
2017 MAC Birmingham - Part of Futuremakers exhibition with Action Space display, film and archive
2017 Riga Pasaules Film Festival, Latvia - screening of Wonderland: the Art of becoming Human
2017 Cheapcuts Short Film Festival, London - screening of Everything Lives
2017 Rogue Cinema, Manchester - screening of Action Space
2017 Sheffield Hallam University, Sheffield - screening of Action Space
2017 Somerset House, London - screening of Action Space
2016 Regent Street Cinema, London - screening of Action Space
2016 FIAC, Grand Palais, Paris - screening of Action Space
2016 Leeds International Film Festival 2016 - screening of Action Space
2016 FILAF film festival, Perpignan, France - screening of Action Space
2016 Flatpack Film festival, Birmingham - UK premiere screening and 3-day inflatable installation of Action Space
2015 Huddersfield Contemporary Music Festival - screening 15min edit of AMM performance from Action Space
2015 P3 gallery, Westminster University - 7-day inflatable building workshop for installation of Action Space
2015 Gray's School of Art, Aberdeen - Guest lecture about To Hell with Culture
2014 Modern Art Oxford - screening of To Hell with Culture
2014 Newbridge Art Project, Newcastle - screening of To Hell with Culture
2014 University of Central Lancashire - screening of To Hell with Culture
2014 Larnaca College, Cyprus - Screening and Talk on To Hell with Culture as part of the 'fine arts speaker series'
2014 University of Nicosia, Cyprus - Screening of To Hell with Culture as part of the 'fine arts speaker series'
2014 Upperspace, Manchester - Screening of To Hell with Culture as part of Politika exhibition
2014 The Tetley, Leeds - Screening of To Hell with Culture
2014 Chelsea College of Art and Design, London - screening of To Hell with Culture
2014 Beacons festival, Skipton - screening of To Hell with Culture
2014 DOKU.ARTS Film festival, Berlin, Germany - screening of To Hell with Culture
2014 The Bluecoat, Liverpool - screening of To Hell with Culture
2014 Leeds International Film festival - screening of To Hell with Culture
2014 Goldsmiths University - screening of To Hell with Culture
2014 Chicago, University of Eastern Illinois - screening of To Hell with Culture
2014 Anarchist Studies Conference, Loughborough University - screening of To Hell with Culture
2014 Queens College, Oxford University - screening of To Hell with Culture
2014 Helmsley Arts Centre - screening of To Hell with Culture
2014 Federation House/Castlefield Gallery - screening of To Hell with Culture
2014 Edinburgh College of Art - screening of To Hell with Culture
2014 Institute of Contemporary Art, London - UK premiere screening of To Hell with Culture
2013 Simon Fraser University, Vancouver, Canada - Public lecture on To Hell with Culture and Herbert Read
2013 Equations film festival, Kingsgate Gallery, London - screening of Negotiating Representation: In Israel and Palestine
2013 NTS Radio - audio screening of Negotiating Representation: In Israel and Palestine
2012 Screamstation festival, Horse Hospital, London - screening of Negotiating Representation: In Israel and Palestine
2012 Black & White, International AV festival, Portugal - screening of Negotiating Representation: In Israel and Palestine
2012 Screengrab New Media Awards, Australia - screening of Negotiating Representation: In Israel and Palestine
2010 Manchester Art School Gallery - exhibition of photographs with Jonathan Purcell, Observing Occupied Space
---
SELECTED PRESS
2021 Art Monthly, Martin Holman print review of The Republics
2020 Indy Film Library, online review of The Republics
2017 Film and the Anarchist Imagination, Richard Porton, Verso books second edition including commentary on To Hell with Culture
2016 Sight and Sound Magazine, Sukhdev Sandhu print review of Action Space
2016 The Wire Magazine, print review of Action Space
2016 Amuse | iD Magazine, online review of Action Space
2015 The World Today with Tariq Ali, Youtube feature on To Hell with Culture
2013 Royal Photographic Journal, 'The desire to explore' article on Huw Wahl
2012 Royal Photographic Journal, interview 'Beyond the Obvious'
2011 BBC Northwest Tonight, feature as part of Levenshulme Bicycle Orchestra
---
WRITING/TEACHING/RESEARCH
2022/3/4 Research Associate - University of Manchester
Practice based research - Creative Adaptive Solutions for Treescapes Of Rivers (CASTOR)

2023 Contributor, Secuencias. Revista de historia del cine no.55
Súper 8 contra el grano

2022 Interview/review article: Ecology & Resurgence, issue 334
The Action of Listening - an interview with Chris Watson
2022 Visiting Lecturer, 6 months - Manchester Metropolitan University / Manchester School of Art
Teaching - Photography BA
2022 Book chapter (forthcoming): Exploring the good possibilities of unform in documentary film
The Art of Fact: The Place of Poetics Within Documentary Filming
to be published by Cambridge Scholars
2021 Arts Review article: Ecology & Resurgence
Lights, Camera, Creative Action - Exploring the expanding genre of ecological filmmaking
2020 Book chapter: Showcasing Conflict: Notes and Observations on Photographic Representation in Israel and Palestine
Visioning Israel-Palestine, published by Bloomsbury
2020 Interview Article: Ecology & Resurgence, issue 320
Giving Poetry Back To The Land: interview with Simon Armitage
2019 Review Article: Ecology & Resurgence
A Hero's Legacy - review of 'Sharkwater Extinction' (2018)
2019 Review Article: Ecology & Resurgence Issue 312
'WHERE HUMAN AND ANIMAL MEET' - review of 'Becoming Animal' by Mettler and Davie
2018 Three day photography course at CELALI, Chiapas, Mexico
https://www.facebook.com/celalicentro
2018 Review Article: Ecology & Resurgence Issue 306
'JOINING HANDS AT STANDING ROCK' - review of AWAKE: A Dream from Standing Rock
2017 Visiting Lecturer: 'Observational Approaches to Research' short course at Ibero University Mexico City
Invited by Dr Martha Areli Ramarez Sanchez
2017 Article: Anarchist Studies issue 25.2, IVWbooks
Review Article: Attack the machinery of permitted consumption
2016 Symposium: Maker Assembly, Sheffield
Speaker and panellist
2016 Symposium: Putting Space Into Action, Centre for Sculptural Thinking (CST) Huddersfield University
Speaker and co-host, symposium is collaboration between Huw Wahl and CST
2016 Symposium: Into Action: The politics of Play and Participation, Primary, Nottingham
Speaker and performer, symposium is collaboration between Huw Wahl, Primary and Loughborough University
2014 Symposium: To Hell with Culture, Manchester School of Art
Co-organiser, symposium is a collaboration between Huw Wahl and Dani Child
2013 Article: Visual Studies issue 29.1, Routledge
Photo-essay on Negotiating Representation: In Israel and Palestine
2013 Paper: CAPPE annual conference Representation, Politics and Violence, Brighton
On topic of Israel and Palestine, in collaboration with Gary Bratchford
2013 Book: Making Stories. Co-editor with Alice Kettle and Insa Langhorst
2013 Symposium: On Visual Methods, Sheffield University. Presentation and participant
2013 Article in Now Then Magazine, December 2013
On Herbert read's essay To Hell with Culture